News & Reviews
"Seguin Steps from Corporate Ladder to B&B Dream"
Kathleen Seguin owner of Bristol House B&B, COOKING SOMETHING GOOD.
Providence Business News, 1/13/14
PHOTO/TRACY JENKINS By Rhonda J. Miller PBN Staff Writer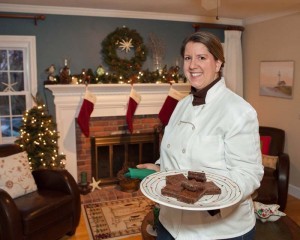 Kathleen Seguin opened Bristol House Bed & Breakfast in May 2011. In the past year she's added another role: board member at Discover Newport. All the corporate marketing and global promotions for The Walt Disney Co., McDonald's and Hasbro Inc. that Kathleen Seguin did for 17 years somehow led her to becoming a small-business owner in a quaint seaside town in the tiniest state in the USA.
"I have always wanted to do this. It's been my dream for a very long time," said Seguin, who opened her Bristol House Bed & Breakfast in May 2011. "I remember going shopping with my mom when I was in college and I saw this blue and white china I really liked. I said to my mom, 'I'm going to buy this and use it in my inn one day,' " said Seguin.
"I did buy it and I have used it. It reminds me that this was my ultimate goal and here I am." The details of the dream filled in over time. "My mom used to take my sister and I on girls' weekends and one time I remember we stayed at an inn in Pennsylvania," she said.
"I thought, 'People make a living doing this?' It turns out my dad was right. He always said, 'Do what you love and you'll feel like you never worked a day in your life.' "
Seguin lived in her house in Bristol for four years, while she worked at Hasbro, and intended to buy another property for her B&B. Instead, she did some renovation, added two bathrooms so all three guest rooms have a private bath, and has her private quarters distinctly separate from the visitor space. So far, none of her guests have had to call her in the middle of the night, but the nature of the business means she's pretty much always available.
"It still doesn't feel like work, even though it's a 24/7 venture," said Seguin."It just combines all of my favorite things. I love to cook. I love to entertain. And I love to decorate."
With all the corporate travel in her previous work, which she enjoyed, she didn't have time to put down roots and become involved in the local business community. That's changed with her more flexible schedule. She's the president of the Bristol Merchants Association, an organization that doesn't put a specific time limit on the position. About a year ago, she was appointed to the board of Discover Newport, the regional tourism organization that represents nine coastal towns in Newport and Bristol counties.
"Kathleen represents the voice of the B&Bs and the small inns. We have more than 250 of those in the nine towns," said Discover Newport President and CEO Evan Smith. Part of her mission on the board, obviously, is to consider and develop possible solutions or perspectives for issues that arise.
"One thing Kathleen and I talk a lot about now are challenges from sites like Airbnb," said Smith. Airbnb posts available lodging of every variety around the world. That could present competition for the B&Bs in Discover Newport's region.
"A lot of the properties on Airbnb are unregulated and not registered with the host communities, but some are. It's buyer beware, because you don't know who you're renting from," said Smith.
Seguin has a deep, global perspective on travel and lodging. She grew up in a military family and lived in many places around the U.S., including Kansas, Utah, Alabama, Maryland, Tennessee and Virginia. She got her degree in communications from Virginia Commonwealth University in Richmond and then her corporate work broadened her travels. She worked for a subsidiary of McDonald's in Atlanta, the Leaps and Bounds bounce houses. When that division was bought out by Discovery Zone, she went to work for Disney in Atlanta and helped launch Radio Disney. The company sent her to Los Angeles and travel included Disneyland Paris. She got to Rhode Island by taking a job at Hasbro as director of global marketing partnerships and promotions. Her travel for Hasbro included trips to England, where the company's Monopoly team happened to be based, and to Spain for a global conference on the Trivial Pursuit game.
"I think about it now – going to Spain for Trivial Pursuit. It was fun," said Seguin. She enjoyed working with the teams and the people in the companies where she worked. Then there was the travel, which continued to feed her dream of her own inn. She stayed in small inns when she could and was keenly observant.
"I had a notebook and I always took notes of what I liked and what I didn't like," said Seguin. When she could, she did return stays at her favorite inns. "For about four years, I often stayed at one inn at Battle Creek, Mich., and they just knew me. It was so comforting," said Seguin, who has found that the steadily increasing number of guests at Bristol House B&B is from repeat visitors. Maybe it's the breakfast, or at least that's likely to be part of the reason for the return visitors. She attended, for short times, the Culinary Institute of America and the Apicius International School of Hospitality in Florence, Italy. After so many years on the road, she's enjoying putting down local roots.
"When I was growing up we lived on military bases, so I never felt like I was part of a town. Then I traveled so much," said Sequin. "I love Rhode Island and I feel I'm getting rooted here," said Sequin.
"Everyone is so supportive. The sense of community here is amazing. And I love being by the water in Bristol. I don't think I could find this anywhere else."
---
FEATURED IN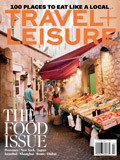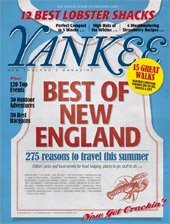 ---

Bristol House was recently featured in an article entitled "Small Town Charmer: Bristol, Rhode Island Delights Couples and Kids." in Family Travel Forum. Click on link for complete article. myfamilytravels.com
---
RECENT GUEST REVIEWS (from our guest book)
10-17-2017
"You have a beautiful home! My Mother and I enjoyed our stay so very much. A perfect Mother/Daughter getaway. We'd love to stay here again in the future."
Jane
9-24-2017
"We couldn't have picked a better spot for our first, kid-free night away! We loved how welcoming & cozy Bristol House was. All of the little touches made it all the more special. We'll be sure to recommend it!"
Melissa & Dean
---
TV APPEARANCES

---
AWARDS AND RECOGNITIONS