Meet Your Innkeeper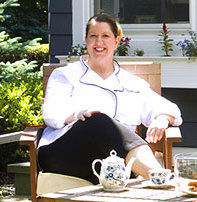 Before moving to New England in 2006, your Innkeeper, Kathleen Seguin, was living in sunny Los Angeles, CA! The daughter of a career Army officer, I had traveled to many locales over the course of my lifetime. I had always been drawn to New England and knew, that one day, I would end up there. In March of 2007, my real estate agent drove me through Bristol on our way to another town to look for a home. I became instantly drawn to this quaint, seaside town and was taken by the historic charm, the harbor and the people! And, as the saying goes, the rest is history!
After four years of living in Bristol, I decided it was finally time to live my lifelong dream of owning a bed & breakfast! I had spent 20+ years in the corporate marketing world working for giants in the family entertainment industry. The knowledge I gained at these corporations has helped me start my own business, and in turn, renovate my home into a B&B that I hope you will love as much as I do! I have been classically trained at both the Culinary Institute of America as well as the Apicius School in Florence, Italy. I hope that you will enjoy indulging on our gourmet, sit-down breakfast as much as I will enjoy preparing it for you!
I am so excited to share my knowledge of the town of Bristol with you! I currently serve on the Board of Directors for Discover Newport and am active in the Bristol Merchants Association and several other community organizations.
In my past life, I have traveled extensively (both domestic and international) and hope to bring the best of my stays at other B&B's and small, boutique hotels to you as our guest! My main goal, as your Innkeeper, is to exceed your expectations and ensure that your stay is enjoyable and memorable.
I look forward to having you as our guest soon!
Kathleen Seguin
Innkeeper